Overview
The heel is a padded cushion of fatty tissue around the heel bone (the calcaneus) that holds its shape despite the pressure of body weight and movement. It serves to protect the structures of the foot, including the calcaneus, muscles and ligaments. Heel pain is a very common foot complaint. Anyone can suffer from heel pain, but certain groups seem to be at increased risk, including Middle-aged men and women, Physically active people, People who are overweight or obese, People who are on their feet for long periods of time, Children aged between eight and 13 years (particularly boys), Women during pregnancy.
Causes
Both heel pain and heel spurs are frequently associated with an inflammation of the long band of tissue that connects the heel and the ball of the foot. The inflammation of this arch area is called plantar fasciitis. The inflammation maybe aggravated by shoes that lack appropriate support and by the chronic irritation that sometimes accompanies an athletic lifestyle. Achilles Tendinopathy, Pain and inflammation of the tendon at the back of the heel that connects the calf muscle to the foot. Sever?s, Often found in children between the ages of 8 - 13 years and is an inflammation of the calcaneal epiphyseal plate (growth plate) in the back of the heel. Bursitis. An inflamed bursa is a small irritated sack of fluid at the back of the heel. Other types of heel pain include soft tissue growths, Haglunds deformity (bone enlargement at the back of the heel), bruises or stress fractures and possible nerve entrapment.
Symptoms
Sever?s Disease. This is a condition that occurs in 10 - 15 year old children, predominantly boys and is associated with running and repetitive jumping. It is also associated with flimsy footwear that kids may wear. It occurs when the Achilles tendon continually pulls on the apophysis of the calcaneum and does not allow for it to fuse with the body of the calcaneum. Calcaneal enthesopathy. This occurs when there is repetitive trauma at the attachment of the Achilles tendon, resulting in a spur from the calcaneum up into the Achilles tendon. It is usually visualized on x-ray and may be tender if there is an associated bursitis or tendonitis. "Pump Bump". Also known as Haglund?s Deformity, this is a bony enlargement that exists on the back of the heel - usually related to a congenital abnormality or with chronic bursitis, causing a thickening. There may have already been trauma or pressure from footwear. Treatment is usually protection of the bump and correct footwear. Associated with a symmetrical swelling at the base of the Achilles tendon. It is usually related to repetitive trauma or inappropriate footwear. It is often red and hot in the early stages. Treatment is usually to correct the footwear, provide padding and treat the local symptoms e.g. ice, rest, physiotherapy and cortisone injection. Fat Pad Syndrome. Direct contact with the base of the heel may result in trauma to the fat pad. Related to obesity, training on hard surfaces, uneven grounds, poor shoes especially overlarge shoes which can cause shearing forces on the heel. These conditions are renowned for taking a long time to recover - usually many months.
Diagnosis
Your doctor will listen to your complaints about your heel and examine you to see what is causing the pain, and whether anything else has started it off. If the cause of your pain seems obvious, your doctor may be happy to start treatment straight away. However, some tests may be helpful in ruling out other problems. Blood tests may be done for arthritis. An Xray will show any arthritis in the ankle or subtalar joint, as well as any fracture or cyst in the calcaneum. (It will also show a spur if you have one, but as we know this is not the cause of the pain.) Occasionally a scan may be used to help spot arthritis or a stress fracture.
Non Surgical Treatment
If you have experienced painful heels try wearing your shoes around your house in the evening. Don't wear slippers or socks or go barefoot. You may also try gentle calf stretches for 20 to 30 seconds on each leg. This is best done barefoot, leaning forward towards a wall with one foot forward and one foot back. If the pain persists longer than one month, you should visit a podiatrist for evaluation and treatment. Your feet should not hurt, and professional podiatric care may be required to help relieve your discomfort. If you have not exercised in a long time, consult your podiatric physician before starting a new exercise program. Begin an exercise program slowly. Don't go too far or too fast. Purchase and maintain good shoes and replace them regularly. Stretch each foot and achilles tendon before and after exercise. Avoid uneven walking surfaces or stepping on rocks as much as possible. Avoid going barefoot on hard surfaces. Vary the incline on a treadmill during exercise. Nobody walks uphill all the time. If it hurts, stop. Don't try to "work through the pain." Your podiatric physician/surgeon has been trained specifically and extensively in the diagnosis and treatment of all manner of foot conditions. This training encompasses all of the intricately related systems and structures of the foot and lower leg including neurological, circulatory, skin, and the musculoskeletal system, which includes bones, joints, ligaments, tendons, muscles, and nerves.
Surgical Treatment
With the advancements in technology and treatments, if you do need to have surgery for the heel, it is very minimal incision that?s done. And the nice thing is your recovery period is short and you should be able to bear weight right after the surgery. This means you can get back to your weekly routine in just a few weeks. Recovery is a lot different than it used to be and a lot of it is because of doing a minimal incision and decreasing trauma to soft tissues, as well as even the bone. So if you need surgery, then your recovery period is pretty quick.
deelsonheels
Prevention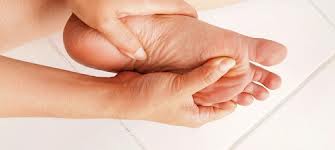 Being overweight can place excess pressure and strain on your feet, particularly on your heels. Losing weight, and maintaining a healthy weight by combining regular exercise with a healthy, balanced diet, can be beneficial for your feet. Wearing appropriate footwear is also important. Ideally, you should wear shoes with a low to moderate heel that supports and cushions your arches and heels. Avoid wearing shoes with no heels.